The Financial Analysis of 64 IVD-related Listed Companies Report in First-half 2021
As of the end of August 2021, the first-half reports of IVD-related listed companies have basically been released. According to CACLP's financial report data of 48 IVD listed companies and 16 IVD-related listed companies, 64 companies have achieved steady growth in the first half of 2021, and more than 70% of companies have shown positive growth in net profits.
Among them, Fosun Pharma(600196. SH)'s first-half sales was 16.95 billion yuan, ranking first. According to statistics from the first-half report in IVD sales category, Mindray (300760. SZ)'s IVD products sales ranked first with 3.9671-billion-yuan, accounting for 31% of the total sales (12.78 billion yuan) in the first half of the year. This is due to domestic and part The amount of routine testing reagents in the international region has been restored. Mindray continued to increase its investment in overseas markets in the first half of this year, with a total of more than 400 new high-end customers, including 100 in Europe and more than 300 in emerging market countries, further establishing Mindray's reliable and high-quality global brand image.
At the same time, in the first half of 2021, the net profit of Hotgen (688068. SH) increased by 74263.59% year-on-year to 1.453 billion yuan; sales increased by 3904.13% year-on-year to 3.6 billion yuan, mainly due to the rapid sales of COVID-19 antigen rapid detection kit in Europe. In addition, Oriental Gene (688298. SH) also has outstanding performance in overseas markets, ranking first among 48 listed companies with sales of 6.382 billion yuan in the first half of 2021. Moreover, the net profit of Tellgen (300642. SZ) and BSBE(300406. SZ) will achieve a year-on-year growth of over 500%.
According to statistics, in terms of R&D investment, a total of 15 companies'R&D investment accounted for more than 10% of their sales. Among them, Rightongene (688217.SH) ranked first with 24.10% in R&D investment. From the year-on-year growth of R&D, Thalys (603716.SH)'s performance is very conspicuous, reaching 419.89%. More and more IVD companies focus on technology and technological innovation, to continue to increase their investment in research and development, and motivate themselves to maintain the scientific, reasonable and sustainable development of the companies.
The 2021 Hurun Global 500 was released
According to CACLP statistics, more than 10 companies involved in in vitro diagnostics(IVD) are on the list. Among them, China medical equipment manufacturer Mindray ranks 176 with US$86bn value.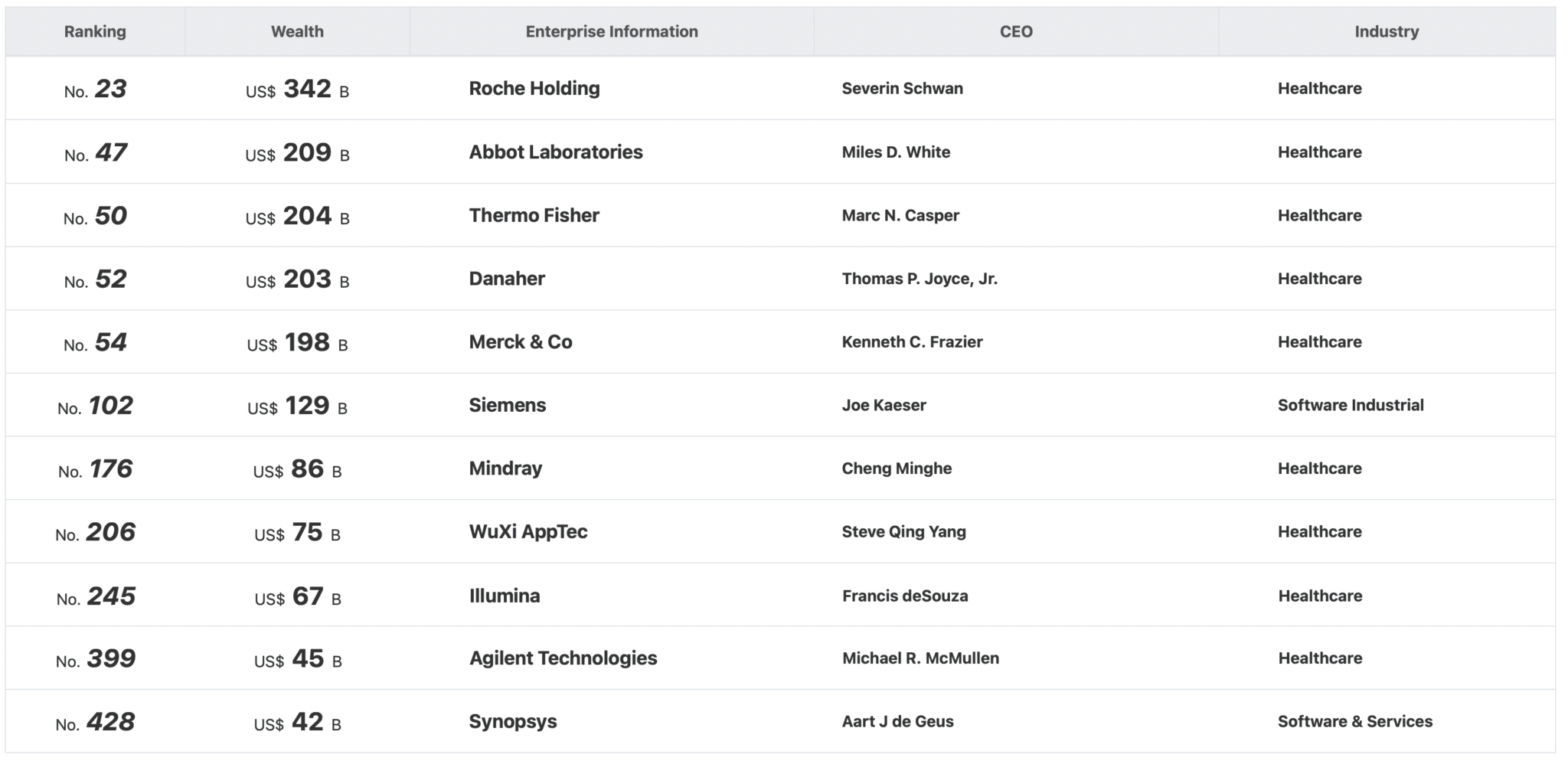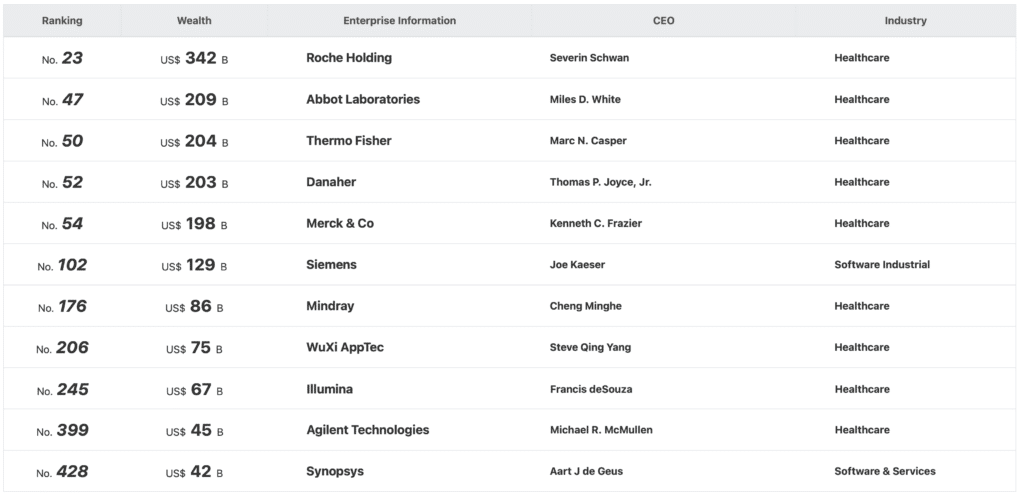 SINOPHARM Reached an Agreement with MXB Biotechnologies, Subsidiary of BSBE
Sinopharm Foreign Trade (Beijing) Co., Ltd., (hereinafter referred to as "SFT") subsidiary of China National Pharmaceutical Group Corporation (hereinafter referred to as "Sinopharm")signed the agency agreement for the "Immunocytochemical Detection Kit of p16/Ki-67" (hereinafter referred to as "p16/Ki-67") with MXB Biotechnologies Co., Ltd., subsidiary of BSBE. Sinopharm, as the controlling shareholder of BSBE, after the signing and implementation of the first cooperation agreement, the two sides will fully integrate their respective resource advantages, strengthen industrial synergy and complementarity, and jointly promote the great leap forward development of China's IVD industry.
The agreement specifies SFT as a business platform to be responsible for the promotion and sales of p16 / Ki-67 test kit with all medical institutions subordinate to Sinopharm in Henan province as a pilot, and take this opportunity to explore an efficient and successful model covering the national market. The two sides will jointly promote the demonstration technology of precision screening of cervical cancer in China. At the same time, to strengthen the upstream and downstream collaborative mechanism of both sides and build a comprehensive platform for pathological products and services on immunohistochemical and its peripheral pathological products and third-party pathological diagnosis.
China is a big country with a large burden of cervical cancer. According to the "2009 Two Cancer Screening Project" (cervical cancer and breast cancer) in rural China, over 2,118 counties` cervical cancer screening has been covered for 35-64 years old women which accumulated 1 million people without any charge. In 2019, the two female cancer screening programs in rural areas was included in the basic public health service. In urban areas, all kinds of specialized hospitals and physical examination centers have carried out the cervical cancer screening and physical examination services accordingly.
Screening is still an important part of the cervical cancer prevention and control system. How to realize WHO`s proposal that by 2030, 90% of women will complete human papillomavirus (HPV) vaccination before the age of 15; 70% of women are screened by efficient testing methods before the age of 35 and 45; 90% of women diagnosed with cervical diseases are treated (90% of women with positive precancerous lesions are treated and 90% of invasive cancer cases are managed), which is a severe reality and challenge we are facing.
The cooperation between Sinopharm and MXB will make the balance and integrate the high sensitivity and high specificity of HPV detection and cytology, and greatly reduce medical expenditure, which is important for realizing the global strategy for accelerating the elimination of cervical cancer by 2030 which has positive and important significance.


Biotest Biotech Successfully Listed on SSE STAR Market
On September 8, 2021, Hangzhou Biotest Biotech Co., Ltd. was listed on SSE STAR Market. Stock code: 688767. The issue price is 34.55 yuan/share, and the opening price is 80.50 yuan/share. Due to the COVID-19 in 2020, the c Biotest Biotech's sales was 865 million yuan, a year-on-year increase of 656%; net profit was 435 million yuan, a year-on-year increase of 1457.05%; the gross profit margin of main products was 75.14%, a year-on-year increase of 76.23%.
Founded in 2008, Biotest Biotech is a national high-tech enterprise specializing in the research and development, production and sales of POCT diagnostic reagents. It is one of the leading companies in the POCT industry in my country. Biotest Biotech is committed to providing innovative, immediate, high-quality diagnostic products and solutions for global users to meet the endless medical needs. Biotest Biotech flagship facility consists of an area of 25,000 square meters with registered capital of 80 million RMB.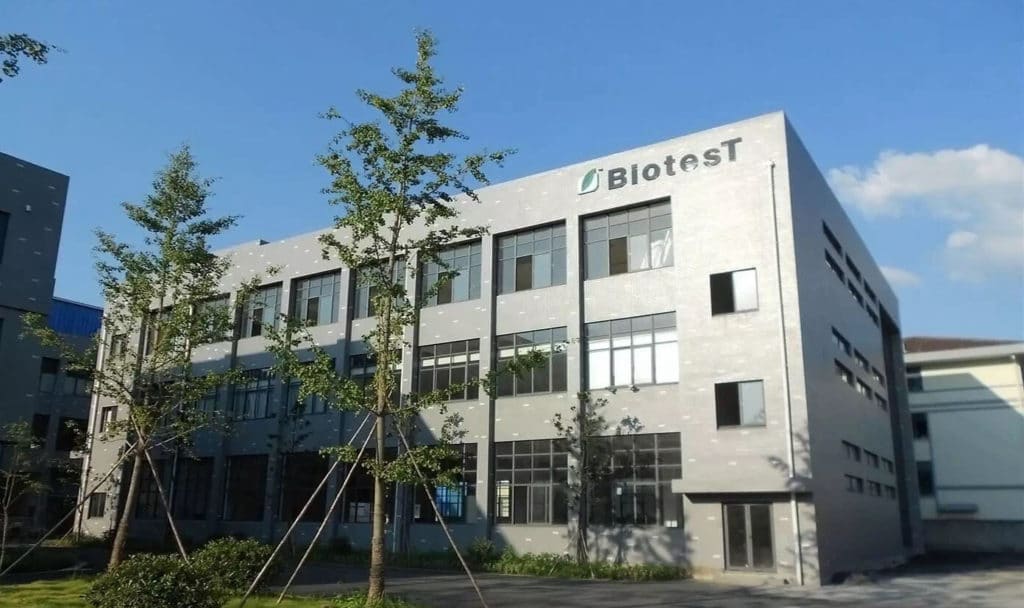 Biotest Biotech 's current products cover five major testing areas, i fertility health, drug testing/toxicology, infectious disease identification, tumor marker detection and cardiac maker monitoring, which are widely used in medical institutions at all levels at home and abroad, like employee screening, medical diagnostics, judicial compliance and military testing, etc. Many products have obtained China NMPA registration, EU CE certification and US FDA510(k) certification.
Agilent Technologies successfully delivered the first batch of targeted capture products produced in China
On September 9, 2021, Agilent successfully delivered the first batch of SureSelect targeted capture probe products produced in China at its Hangzhou production base. This completed production delivery marks the completion of China production line recently, which has achieved the production level and quality assurance consistent with Agilent's global standards. In the future, China production line will produce and supply high-quality SureSelect targeted capture products to more quickly respond to the needs of second-generation sequencing customers for targeted capture products.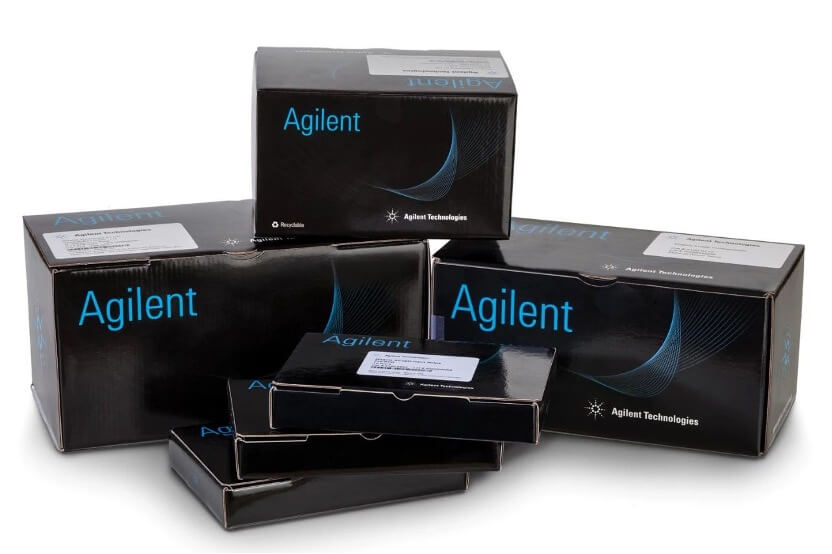 Kevin Meldrum, vice president and general manager of the Genomics Group of Agilent Technologies, said: "With the rapid development of precision medicine in China and the advancement of second-generation sequencing technology, China has become one of Agilent's most important strategic markets in the world.
This time the presence of  SureSelect targeted capture product production line that has been built and put into production in China will allow us to respond to the needs of domestic customers more quickly and timely in the future, fulfilling our commitment of rooting in China and continuously  providing Chinese users with the best quality services. Carrying out and expanding production in China It is also Agilent's response to the policy call of Made in China 2025 to further promote the continuous development of domestic precision medicine and technological innovation."
Zheng Xiaowei, General Manager of Diagnostics and Genomics Division of Agilent Technologies China said: "In 2020, with the support of the headquarters Agilent China Diagnostics and Genomics Group (DGG) has completed the 5-year development strategic plan for domestic business-DGG China 2025. The domestic production targeted capture products delivered today are a true embodiment of the implementation of DGG China 2025 strategy. The successful use of this production line will provide users engaged in tumor sequencing, molecular genetic testing, pathogenic microorganism testing and life science research with a faster product delivery cycle, and further improving customer service capabilities and customer satisfaction".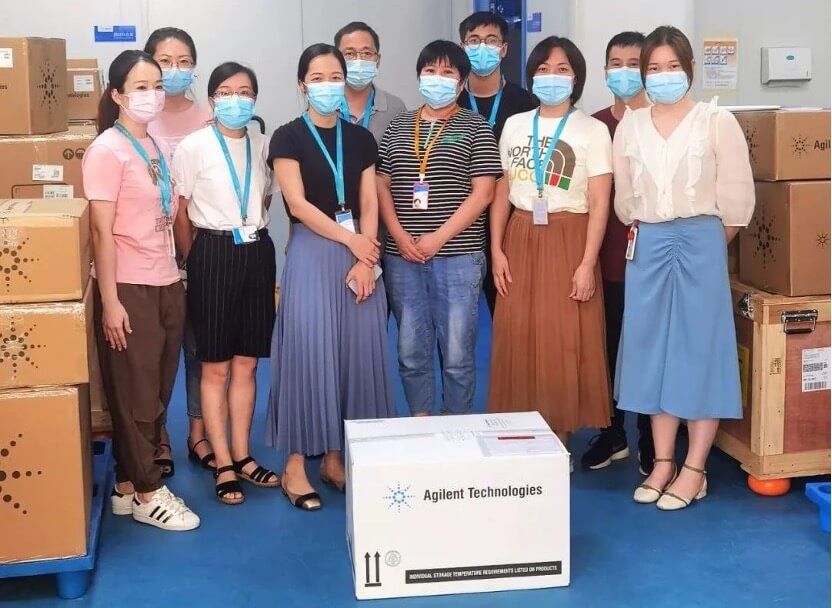 Wang Xiaobo, General Manager of Agilent Bioscience Co. Ltd (Hangzhou) and Product Production Director of Agilent Technologies Genomics Bruce Jerpseth, jointly stated that in the construction and operation of China production line of SureSelect targeted capture products, Agilent China worked closely with the global team to overcome challenges brought by the global epidemic. With the collective efforts of domestic and foreign members of the project team, the planning, construction, debugging, quality inspection and production of the production line have been completed to ensure that the products delivered by China production line are consistent with the global quality standards .
Agilent Bioscience Co. Ltd (Hangzhou) where the new SureSelect targeted capture product production line is located, is the R&D, manufacturing and operation center of Agilent's global flow cytometry system and real-time cell analysis system. With the addition of the SureSelect product line, Agilent Bioscience Co. Ltd (Hangzhou)'s manufacturing capabilities have been further expanded. Its manufactured products will be widely used in drug development, immunotherapy, tumor marker detection and development, genetic testing, vaccine development, toxicology, safety pharmacology, quality control and basic life science research.