Market Size
In Vietnam, the market size was valued at $1.1 billion in 2021, and it's projected to grow at a CAGR of 9% from 2021 to 2026. Below is a table showing the projected market growth.
| | |
| --- | --- |
| Year | Market size in billion dollars |
| 2021 | 1.1 |
| 2022 | 1.2 |
| 2023 | 1.31 |
| 2024 | 1.43 |
| 2025 | 1.56 |
| 2026 | 1.7 |
Digital Health
According to estimates, the digital health sector will generate US$805.80m in revenue by 2022. An estimated market volume of US$1,464.00m by 2027 is the result of revenue growing at a projected annual rate of 12.68% (CAGR 2022-2027).
It is anticipated that the average revenue per user (ARPU) will be US$28.80. Comparatively speaking, China will produce the majority of revenue ($46 billion in 2022). Digital Fitness & Well-Being, with a total revenue value of US$417.70m in 2022, will be the market's largest segment.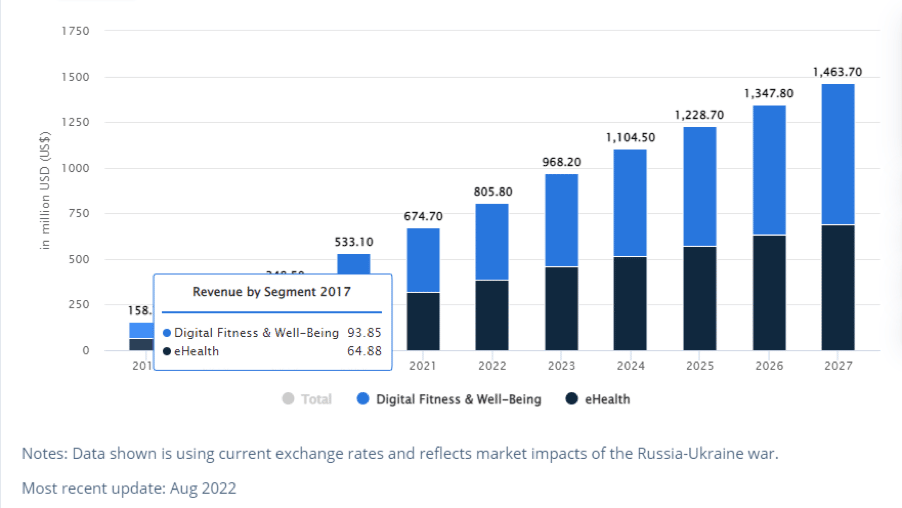 Primary Care
The healthcare segment's revenue is anticipated to reach $144.50 million in 2022.
Market volume is anticipated to reach US$297.80m by 2027, with revenue estimated to expand at a 15.56% annual rate (CAGR 2022-2027).
The table below illustrates this
| | |
| --- | --- |
| Year | Market size in million dollars |
| 2022 | 144.5 |
| 2023 | 166.99 |
| 2024 | 192.87 |
| 2025 | 223.0 |
| 2026 | 257.7 |
| 2027 | 297.8 |
By 2027, there will likely be 21.3 million users in the health care market. In 2022, there will be 15.8% of users, and by 2027, there should be 20.8% of users.
Diagnostic
The market size value in 2021 was estimated at US$1087.51 million. Market volume is anticipated to reach US$1749.95 million by 2027, with revenue estimated to expand at a 6.79% annual rate (CAGR 2022-2027).
| | |
| --- | --- |
| Year | Market size in million dollars |
| 2021 | 1087.51 |
| 2022 | 1177.24 |
| 2023 | 1274.38 |
| 2024 | 1379.52 |
| 2025 | 1493.35 |
| 2026 | 1616.57 |
| 2027 | 1749.95 |
The pathology test held the greatest market share of 59.20% in 2021 and is anticipated to continue to dominate the market for the duration of the projected period.
Imaging
The market for medical imaging was valued at USD 36.19 billion in 2020 and is anticipated to increase by USD 5.8% year from 2021 to 2028, from USD 37.97 billion to USD 56.53 billion.
Rehabilitation
In 2021, the market for home rehabilitation services was worth $84.1 billion worldwide. By 2032, the market for home restoration services is expected to generate sales worth US$ 140.5 billion at a CAGR of 4.8%. According to Future Market Insights, the global market for home rehabilitation services will make up close to 38.0% of the US$ 221.2 billion market for rehabilitation therapy services worldwide in 2021.
Market Trends
Artificial Intelligence
AI replaces traditional, labor-intensive, and time-consuming healthcare processes with fast, remotely accessible, real-time solutions for diagnosing, treating, and preventing disease. To unlock the full potential of AI, healthtech companies offer software platforms, application programming interfaces (APIs), and other digital products. Medical diagnostics enhanced surgical support, and clinical workflow management is examples of how artificial intelligence is being used in the healthcare industry.
The Internet of Medical Things
IoMT enables the development of devices that require little or no human interaction to deliver healthcare services. Multiple applications such as automated disinfection, intelligent diagnostics, and remote patient care are enabled by connected medical devices, equipment, and infrastructure. For real-time disease diagnosis, monitoring, tracking, and control, the cognitive IoMT (CIoMT) subtrend integrates sensory data, automatic processing, and network connection.
Telemedicine
As a result of the COVID-19 epidemic, the rate at which many governments, healthcare systems, doctors, and patients are adopting telemedicine is accelerating. Governments released telemedicine guidelines to relieve pressure on healthcare institutions as a response to the pandemic. Telemedicine frees up facilities and reduces the need for personal protective equipment (PPE) because medical professionals can communicate with patients via telecommunications.
Telehealth services are being developed by health tech entrepreneurs to support public health mitigation initiatives by increasing social distancing. Additionally, telemedicine distancing provides remote care for older patients frees up bed space, and saves money on medical supplies.
Analytics & Big Data
Digitalization is transforming the collection and storage of medical data, diagnostic methods, treatment planning, surgical processes, remote patient monitoring, and consultation. In the upcoming years, it is anticipated that the amount of health and medical data would grow tremendously. Big data and analytics are used by MedTech companies to assess the amount of unstructured medical data generated by MedTech. It enhances patient-centered services, finds diseases early, and produces fresh understandings of how diseases workunderstandinghnologies also make it possible for better treatment techniques and assess the effectiveness of procedures at healthcare facilities.
Integrated Technology
The healthcare industry is increasingly using immersive technologies such as AR/VR and MR. Applications for VR in healthcare range from helping with cognitive and physical rehabilitation to exposure treatment for anxiety disorders and rehabilitation therapy. Additionally, AR and VR are crucial for medical education. Immersive technologies are used in surgery as well, for example, to protect patient data, holographic visuals, and scans throughout the procedure.
Mobile Health (mHealth)
Digital solutions and connected devices are used by mHealth technology to enable access to personalized information. Visualizing health challenges that deter patient commitment is made possible by mobile devices. Healthcare is becoming more equitable and accessible with smartphone-connected wearable sensors, point-of-need diagnostic tools, and medical imaging with real-time data streams that are not bound by geographic boundaries.
mHealth technology plays a key role in containing the spread of the COVID-19 pandemic by providing contact tracing, surveillance, quarantine management and management, testing and dissemination of relevant information, and immunization cycle tracking and notification has been fulfilled.
Market Drivers
The market for medical devices in Vietnam was worth USD 1,832.49 million in 2021 and is anticipated to expand at a constant CAGR of 12.27% over the following five years. During the forecasted years, this is predicted to develop rapidly.
The increased geriatric population in Vietnam is a major driver of the medical devices market there. Additionally, expanding cooperation with nations like South Korea, Germany, Italy, etc. is another crucial factor promoting the development of this market. In Vietnam, 10% of the supply comes from local marketplaces, and 90% of the demand is satisfied by imports. These factors are anticipated to positively impact market expansion.
The Growing Aging Population
In Vietnam, the population is aging at a faster pace than the birth rate, which hastens the aging process. Vietnam's population is aging at the fastest rate in the Asia-Pacific region. An aging population will have an effect on the sector because those over 60 are more likely to get sick. Doctors need medical equipment to diagnose and treat sick patients.
Growing Medical Tourism
Vietnam offers excellent potential for the growth of medical tourism. The political stability of Vietnam, the accessibility of healthcare, and the general good quality of medications are promoting the rise of medical tourism in Vietnam, which will further the market's expansion. The demand for medical equipment for diagnosis and treatment will rise as a result of the growth in medical tourism, professionals, and hospitals.
The Increase of Chronic Diseases
Both the elderly population and chronic illness prevalence are rising. As a result, deaths have increased. In order to avoid this, the Vietnamese government is expanding the number of hospitals that need medical equipment to detect serious illnesses.
Market Restraints
Supply Chain Problems
During the pandemic, demand has decreased for various products, including those used during elective surgical procedures. Orders for goods including masks, gloves, infrared thermometers, PPE kits, and testing kits increased during the pandemic.
Medical device manufacturing has also been affected by coronavirus supply chain disruptions. Delays in deliveries and rising material costs have been causing issues for businesses. The market will continue to face challenges from disruptions and changes in supply pricing until the concerns with the global supply chain are resolved.
Supply Uncertainty
Supply chain issues and inventory uncertainty go hand in hand. Over the last few years, we have seen the impact of the pandemic on supply chains. Other factors can also hurt supply, such as labor unrest, armed conflict, natural disasters, transportation issues, and unexpectedly increased demand for raw materials.
Complex manufacturing regulations and standards
The following are a few guidelines and rules for manufacturing that apply to companies that make medical devices:
ISO 13485
The makers of medical devices are the target market for this quality control system. Businesses that adhere to ISO13485 standards have enhanced their risk management, quality assurance, traceability, and process validation. Access to overseas markets would be made simpler for manufacturers who maintain compliance. Your business can become more effective, risk-averse, and profitable by streamlining its procedures and adhering to compliance regulations.
21 CFR 820
A regulation for quality systems is included in Title 21, Section 820 of the Code of Federal Regulations. It comprises specifications for how medical device manufacturing facilities must develop, produce, buy, label, and store their products. The legislation also covers the installation and maintenance procedures for medical equipment. To ensure compliance with this law, the Food and Drug Administration (FDA) inspects manufacturing sites.
The EU Medical Device Regulation
Devices are now reclassified under higher risk classes, and makers are required to follow tougher guidelines. The European Union has 23 official languages, and information on packaging for devices headed for Europe is provided in that language. Depending on where their shipments are going, manufacturers must assume the obligation and cost of supplying the relevant information in the right languages.
Shortage of Skilled Workers
For many industries, finding qualified staff is a considerable barrier. Finding the workers that manufacturers need to fill available positions is difficult.
Industry Week asserts that the labor shortage is neither caused by the Baby Boomer population retiring or by workers quitting their employment out of fear of contracting COVID-19. The median age of the workforce would be rapidly declining if these factors were a factor. Rather, it fell slightly from 42.5 years old in 2020 to 42.2 years old in 2021.
More freedom and a better work-life balance were mentioned as reasons given by departing employees for leaving their positions. Additionally, many said they wanted chances to work from home when available.
Key Industry Players
Major companies dominating the medical device market in Vietnam include Stryker Corporation Vietnam, USM Healthcare Medical Devices Factory JSC, Medical Devices and Biomaterial Plant Joint Stock Company, Getz Healthcare (Vietnam), Omron Healthcare Vietnam, B. Braun Vietnam Co., ltd. , Hoya Lens Vietnam Ltd., Japan Vietnam Medical Instrument JSC, Armephaco Joint Stock Company, Terumo Vietnam Medical Equipment Co., Ltd., GE Healthcare Vietnam and other well-known companies.