In the current post-pandemic situation, the global economy is gradually starting to recover. As an important part of the medical device industry, the in vitro diagnostic industry needs to meet and communicate together in order to continue developing their business. CACLP is firmly committed to showcasing the IVD industry by bringing industry professionals together and creating the highest-quality IVD community worldwide.
The 19 th edition of China Association of Clinical Laboratory Practice Expo (CACLP) and the 2 nd China IVD Supply Chain Expo (CISCE) will open its door in one week 26-28 October 2022 in Nanchang Greenland International Expo Center, Nanchang City, China.
The 19th edition of CACLP will focus on the international development and future challenges of the global IVD industry. New technology and innovative ideas will also take centre stage at the show to provide an unsurpassed business platform for the entire industry. CACLP and CISCE will showcase the latest innovations via a range of product displays, scientific talks and industry workshops.
During the CACLP 2022
A 120,000m 2 exhibiting space, with a 50% increase over last year, lets you fully enjoy three days of visiting.
1430 exhibitors from almost 20 countries & regions will come together in Nanchang City to show their latest developments. Their products and services cover molecular diagnostics, clinical diagnosis, immunodiagnostics, biochemical diagnosis, laboratory equipment/instruments, microbiological diagnostics, disposables/consumables, raw materials, POCT…
433 new companies presenting their advanced products & technologies forthe first time at CACLP.
Over 40,000 IVD market players are expected to attend the CACLP exhibition in October 2022: laboratory professionals, medical institutions, manufacturers, schools and students, distributors, agents, investors, entrepreneurs, and other organisations. <Be part of a visitor and join them>
At the same time, a series of 20+academic conferences and 110+ business meetings will take place in Nanchang City. Their themes range from experimental medicine, biomedical engineering, molecular diagnosis to pathology, mass spectrometry, blood transfusion, clinical & laboratory and other IVD-related topics. Professionals and influencers have been officially invited to share their experience, knowledge, and opinions on this 4-day IVD industry event.
Schedule of CACLP 2022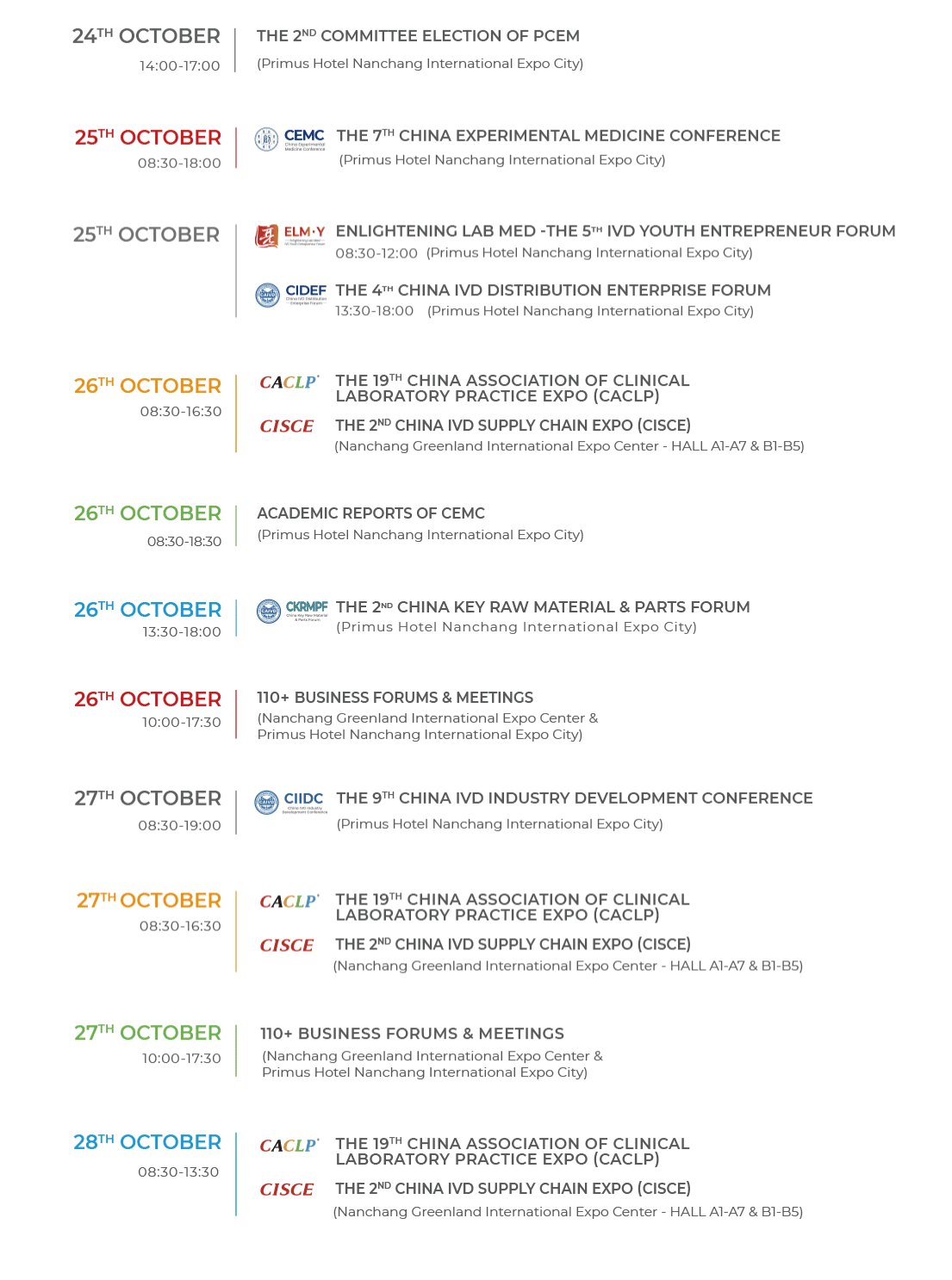 As part of CACLP's commitment to providing the highest hygiene and safety levels, the event will again take place under the protocols of local government. CACLP 2022 will be in touch with all participants and continue to take every possible measure to carry out the successful status of the show this October.
Preview of CACLP 2022 exhibitors