China Association of Clinical Laboratory Practice Expo (CACLP) and China IVD Supply Chain Expo (CISCE), the premier event for the in-vitro diagnostics industry in China, is set to kick off from 28-30 May 2023. This edition marks the show's 20th anniversary at Nanchang Greenland International Expo Center.
CACLP 2023 is not just a platform for those 1,400 exhibitors to showcase their latest products and technologies, but also an opportunity for industry professionals to learn and network. CACLP 2023 will feature a wide range of new products, academic and enterprise activities to attract more than 30,000 visitors from all over the world.
Continuous growth of exhibitors and visitors
Almost 1,400 exhibitors will come from around the globe, covering the whole IVD industry chain.
Significant upgrade of exhibition space
130,000 sqm of exhibition area, offering a fulfilling visiting experience.
Diverse concurrent events
Over 20 academic conferences, more than 100 business forums and meetings, new product releases and design competitions will be held at the same as the exhibition.
Global exchange without boundaries
This multi-faceted event brings together global IVD companies to promote high-quality development in the IVD industry.
Experiencing the On-Site Event
With two decades of providing a platform for the latest innovations and trends in in-vitro diagnostics, the CACLP Expo has become an essential meeting place for worldwide laboratory professionals, scholars and researchers, medical institutions, manufacturers, agents, investors, entrepreneurs and other parties stakeholders in the industry.
Meanwhile, it was announced that China has reopened its borders to foreign tourists for the first time in the three years since the outbreak of the COVID-19 pandemic. Since March 15, 2023, all types of visas are being issued.
More good news for those planning to attend CACLP 2023, airlines have ramped up their international flights to China amid rising demand. According to operational data released by carriers, the increase of Air China's flight capacity for international routes in February was up 167.4% YOY, following China Eastern Airlines' 425.9% increase and China Southern Airlines' 317% jump. With flights back in operation, exploring the Expo in person is expected to be easier and more affordable.
Pre-registration offers free entry into the Expo and no waiting in lines on-site. It is highly recommended to secure a spot and plan your visit in advance, in order to proceed with your visa and travel itinerary. If any assistance is required for this, email [email protected]
As a significant milestone, the 20th CACLP promises to be even more spectacular than ever. Visitors can expect to gain invaluable insights as well as network with like-minded professionals from around the world.
Remarkable Activities Unveiled in Succession
From 26-30 May 2023, a series of concurrent activities will offer visitors an array of exciting and informative experiences, which must add value to your stay at the CACLP Expo. The 5 days of activities encompass a diverse range of programs and meetings aimed to provide visitors with cutting-edge knowledge, valuable insights, and networking opportunities.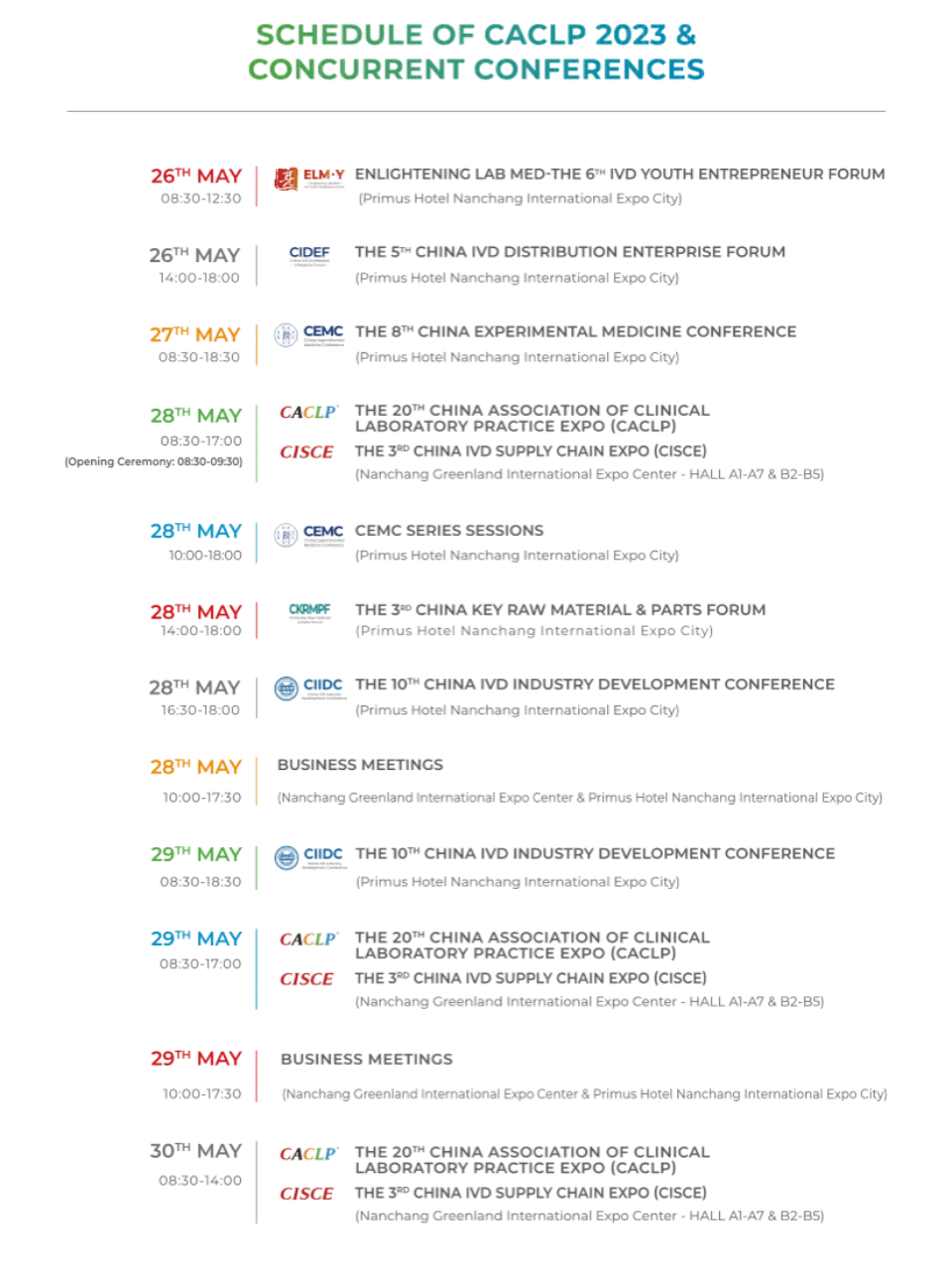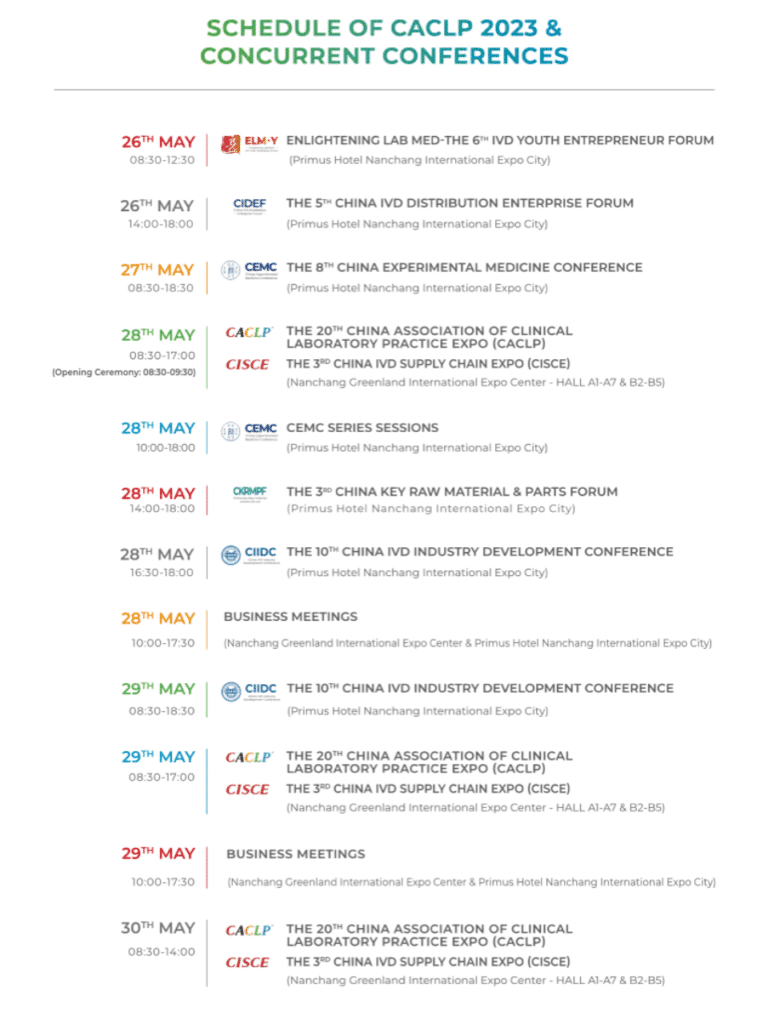 The 10th China IVD Industry Development Conference (CIIDC), The 8th China Experimental Medicine Conference (CEMC), Enlightening Lab Med – The 6th IVD Youth Entrepreneur Forum (ELMY), The 5th China IVD Distribution Enterprise Forum (CIDEF), the 3rd China Key Raw Material & Parts Forum (CKRMPF) and over 100 business forums are scheduled to be held from 26 March at Primus Hotel Nanchang International Expo City.
Further details including themes and focus, keynote speakers and presenters will be continuously made public in the coming weeks.
For further information on CACLP & CISCE 2023 and to register for free, please visit our newly upgraded website: https://en.caclp.com
About GL events
GL events, whose HQ is located in Lyon, was founded in 1978. It is listed on Euronext Paris, Segment B. The core business of GL events covers three business segments, i.e., VENUES (venue management), EXHIBITIONS (exhibition organization) and LIVE (consulting, design and services for events). Through its wide global network of more than 90 offices, with 483 proprietary exhibitions and events, managing 60+ venues and serving 4,200 events, GL events is a critical force for the city promotion of 28 MICE destinations. GL events reported consolidated annual revenue of over €1.1 billion for 2019, giving it a leading position in the industry.
About CACLP
Debut launched in 1991, CACLP, the China Association of Clinical Laboratory Practice Expo, is well established as one of the largest exhibitions in the in vitro diagnostic industry worldwide. CISCE, China IVD Supply Chain Expo, successfully launched in 2021, further expands the product sectors from upstream to downstream. With a great number of high-level academic and educational programs held concurrently onsite, and year-round promotional solutions, CACLP proves itself as one of the most important platforms for global IVD players.
Every year, CACLP brings together over 30,000 professionals including entrepreneurs, scholars, users and influencers in the clinical laboratory industry from around the globe to exchange the latest developments in the industry, enhance partnerships and shape the future of the IVD industry.
Contact for press
Sudi FANG
[email protected]
Tel: +86 21 5255 8222