A chair with wheels refers to a wheelchair and has several advantages. It is mainly useful for individuals who have difficulty in walking or when due to certain external and internal factors have limited mobility. This includes illness, injury, disability and problems associated with aging. Medical conditions such as spinal cord injuries, brain injury, multiple sclerosis, spina bifida, osteogenesis imperfecta and motor neuron diseases may make it challenging for an individual to move and wheelchairs are very beneficial in these cases.
They are available in different variety of formats to fulfill the needs of their users. The various options include specialized seating adaptations, designs specific for particular activities such as beach wheelchairs and sports wheelchairs, and others may have individualized controls. Another type of wheelchairs are motorized wheelchairs and manual wheelchairs. In the electric wheelchairs the chair works with the help of electric motors and batteries. On the other hand, in the manual wheelchairs the chair moves forward when the user propels the chair through hand, also known as self-propelled, or a handle attachment can also be used.
What are the different types of wheelchair?
Self-propelled wheelchairs
These wheelchairs are more suitable for individuals who can get manage themselves on their own. They consist of a large black wheel which allows the user to steer and push, but it also has handles at the back for pushing.
Non-self propelled also known as attendant-propelled are the chairs which are preferred by those who have limited mobility and require help from others to move.
Manual wheelchairs
These are widely popular among people with limited mobility. They have several benefits as they are economical, durable and offer basic features. They can be of two types namely, attendant-propelled or self-propelled.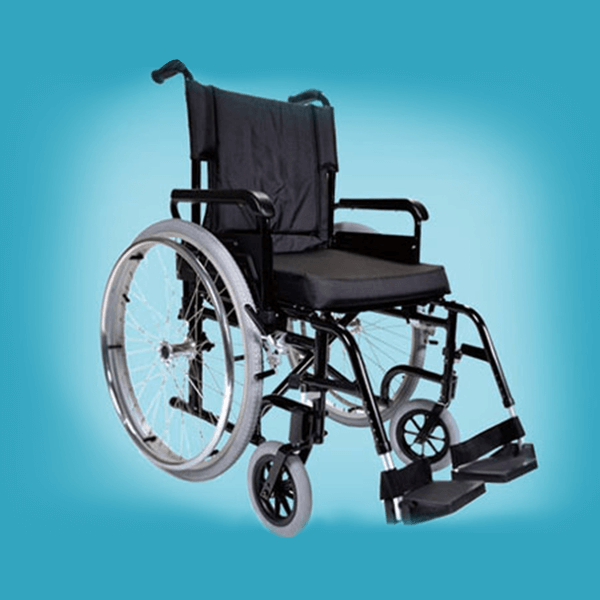 Electric wheelchairs
These are superior to manual wheelchairs as they provide the users the option of moving around without pushing the chair manually. People who are physically impaired or who are unable to move themselves find these chairs beneficial. Electric wheelchairs are bulkier and heavier so before buying one these things should be taken into consideration.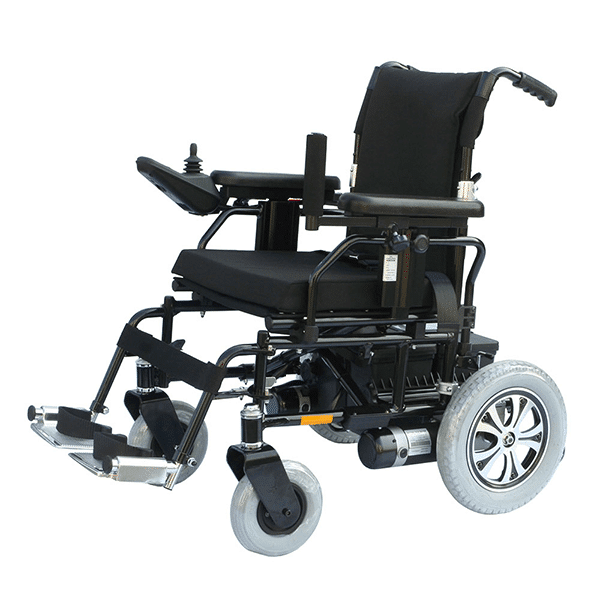 Transport wheelchairs
These are most frequently used by individuals who are traveling or who do not need to be in a wheelchair all the time. Due to their availability in various sizes and weights they provide a wide range of options. They are easy to fold, transport and dismantle.
Certain wheelchairs offer unique features of a traditional wheelchair and the ease of utility of a transport chair. For example, a Hybrid wheelchair can be converted from a traditional wheelchair to a transport chair whenever required.
Reclining wheelchairs
These are useful for individuals who find it difficult to remain in a seated position for prolonged time period. These chairs have a backrest that can easily recline back and the angle is adjustable. Other wheelchair styles include ultralight transport chairs, power chairs and scooters, extra-wide wheelchairs and lightweight wheelchairs. It is important to ensure that whichever wheelchair you select, the user is comfortable and finds it easy to use.
Single-arm drive wheelchairs
These help the user to self-propel a manual wheelchair by using only single arm. Similarly, some wheelchairs designed specifically for hemiplegics offer movement where the footplates can be used which help to propel the chair forward or backward in a straight line.
What are the important features of wheelchair?
Before purchasing any wheelchair the needs of the user should be taken into consideration. Based on the requirements, a wheelchair can be selected.
The wheelchairs that are easy to fold, and lightweight are popular because of the ease of transportation. They can fit into any medium sized car, and are foldable.
Lightweight wheelchairs can be lifted easily and with the help of ramps transporting them is also a simple task.
A foldable wheelchair is safe to use when user is traveling up and down stairs, or between locations. You can keep it in storage areas as they are quick to fold. This does not requires additional efforts.
Powered electric wheelchairs are effective as they make the movement effortless, although they weigh a lot. As they are not very portable, hence it can cause certain challenges if the user is not using them. First of all, it requires a large wheelchair accessible vehicle that has ramps or a lift for access. Secondly, they are difficult to lift and lifting them is not suggested.
Some wheelchairs have large tyres with large surface area which are suitable for particular conditions. For example, they are good for traveling in wet and boggy environments. In addition, even in sandy beaches they are helpful.
Another variety includes, an all-terrain wheelchairs that are useful to overcome the most difficult obstacles. They can be used in extreme conditions such as snow and rock. Typically, lightweight and strong materials such as aluminium and titanium alloy are used for designing these
What are the recent varieties?
Sport wheelchairs
These are support disabled athletes including tennis, racing, basketball, rugby and dancing. The unique feature of sports wheelchairs is that they are designed specifically for that particular sports, with no resemblance to the traditional wheelchairs.
They are non-foldable to increase the rigidity and have a pronounced negative camber. This accentuated camber helps to increase the stability and in making sharp turns. Usually, made of lightweight, and composite materials. In racing wheelchairs, the seating position is particularly different (kneeling position) compared to other wheelchairs
These wheelchairs are designed for everyday use and typically used for sport use. Few wheelchairs are prepared specifically for lower-limb amputees that are helpful for sports, however not useful in routine activities.
Smart wheelchairs
These are power chair that use a control system to replace or augment user control. These wheelchairs eliminate the user's task of controlling a power chair. It is managed by a computer and has sensors similar to that used in mobile robotics.
Generally, the sensors include infrared red (IR) range finder and ultrasonic acoustic range finder (i.e. sonar). It has different kinds of interface such as a touch sensitive display, or a conventional wheelchair joystick. In the conventional power chair an individual manually controls the speed and direction, while in smart wheelchairs there is a control system that manages the smart wheelchairs.
Smart wheelchairs are helpful for individuals with dementia and cognitive impairments. Apart from these, in individuals with severe motor disabilities such as quadriplegia and cerebral palsy, smart wheelchairs serve various purposes including muscular activations such as execution of high-level commands. These can adopt recent techniques such as artificial intelligence and path-planning.
What are the important things to be considered before selecting wheelchairs?
Assessment of present and future needs
Depending on the user's condition the wheelchair should be selected. If the patient's health status is expected to deteriorate then a wheelchair that fulfills the future needs can be chosen. Factors such as postural support and support for head, neck and arms should be considered. Based on the future needs selection of a manual wheelchair or powered wheelchair is suggested.
Consider your body size
Wheelchairs that suit the body size and body type should be considered. Wheelchairs can be of several shapes and size and considering the body needs wheelchairs should be chosen. Characteristics such as backrests, seats, footrests and adjustable frame are other features that needs to be evaluated.
Consider your routine requirements
Based on the daily activities wheelchairs should be recommended. For example, desk-length armrests are more suited for individuals who regularly work in office. These are shorter than full-length armrests, making it easier for people to get closer to the edge of the table or desk. Some wheelchairs also consist of height-adjustable armrests which allow the armrest height to vary. Wheelchairs with elevating footrestsare useful for individuals who are advised to elevate their legs including injury, swelling and edema.
What are the latest recent trends?
In recent times, several developments have taken place that are trying to improve overall quality of life of individuals who are physically disabled. Hand cycle has been introduced which comes in different forms. This includes road and track racing models, off-road types similar to mountain bikes.
Other modalities that have been developed over the past two decades include development of a stationary wheelchair trainer platform. It will enable wheelchair users to exercise on the trainer platform as one would on a bicycle trainer or treadmill.
Another recent design includes development of omnidirectional treadmill, which is based on integration of interactive gaming and virtual travel. It will help to improve walking skills especially in pediatric and adult rehabilitation as it converges virtual reality and a treadmill.
Conclusion
Wheelchairs are immensely useful for people with limited mobility and physically impaired. They can be of different types, and formats which may vary in armrests, backrest providing effective postural support. Smart wheelchairs, manual wheelchairs, electric wheelchairs, sports wheelchairs, reclining wheelchairs and transport wheelchairs are few of them that have their own unique features and advantages. Any wheelchair that serves the needs and makes life easier and comfortable for user should be selected.