Market Size
The market size of Middle East medical devices is anticipated to reach $31.6 billion by 2025. This growth is mainly driven by the increasing incidences of diseases such as diabetes and obesity and the increasing geriatric population. Other major factors include rising demand and adoption of such technologies and growth in technological innovations in Middle East countries majorly in Saudi Arabia, UAE, and Qatar.
Digital Health
In 2022, the digital health industry is anticipated to generate US$0.74 billion in revenue. By 2027, a market volume of US$1.16 billion is anticipated, with revenue estimated to expand at a 9.55% annual rate (CAGR 2022-2027).
It is anticipated that the average revenue per user (ARPU) will be US$37.26. Comparatively speaking, China will produce the majority of revenue ($46 billion in 2022).
Digital Fitness & Well-Being will have the largest market category, with US$0.37 billion in total revenue in 2022.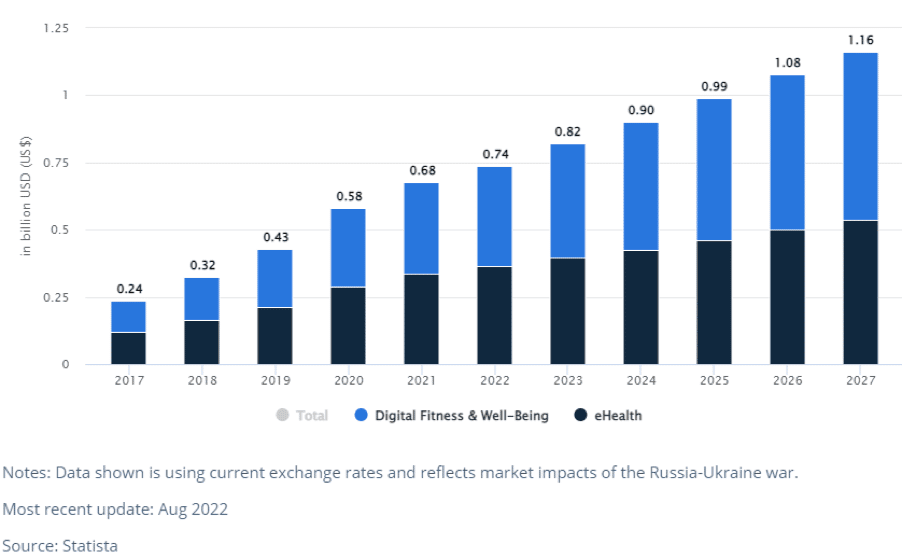 Primary Health Care
The middle east healthcare market is expected to reach US$189,193.01 million by 2029 from US$99,236.36 million in 2021.
It is estimated to grow at a CAGR of 8.4% during the forecast period of 2022-2029.
The table below illustrates.
| | |
| --- | --- |
| Year | Value (millions) |
| 2022 | 99236.36 |
| 2023 | 108818.89 |
| 2024 | 119326.73 |
| 2025 | 130849.25 |
| 2026 | 143484.4 |
| 2027 | 157339.64 |
| 2028 | 172532.78 |
| 2029 | 189193.01 |
Among the major driving forces behind the market's expansion are emerging countries' growing demand for home healthcare settings and their increased attention to telehealth. The market's expansion is, however, somewhat constrained by the lack of comprehensive insurance coverage and worries about patient safety.
Diagnostics
The in-vitro diagnostics market in the Middle East is anticipated to increase from US$ 2,675.1 million in 2019 to US$ 3,454.0 million by 2027; it is projected to rise at a CAGR of 3.2% from 2020 to 2027. Chronic illnesses and viral infections are both very common in the aging population. Adults with diabetes are more likely to experience functional restrictions, loss of independence, frailty, and impairment. The market for in-vitro diagnostics in the Middle East and Africa offers lucrative potential due to the rising frequency of cardiovascular illnesses among adults and the rising incidence of diabetes.
| | |
| --- | --- |
| Year | Value (millions) |
| 2020 | 2675.1 |
| 2021 | 2774.56 |
| 2022 | 2877.72 |
| 2023 | 2984.72 |
| 2024 | 3095.7 |
| 2025 | 3210.8 |
| 2026 | 3330.18 |
| 2027 | 3454.0 |
Imaging
The medical imaging market, which was valued at USD 20.1 billion in 2021, is predicted to grow at a CAGR of 5.50% from 2022 to 2029, reaching USD 30.85 billion.
| | |
| --- | --- |
| Year | Value (billions) |
| 2022 | 20.1 |
| 2023 | 21.37 |
| 2024 | 22.72 |
| 2025 | 24.15 |
| 2026 | 25.68 |
| 2027 | 27.3 |
| 2028 | 29.02 |
| 2029 | 30.85 |
Rehabilitation
During the anticipated period of 2021 to 2028, the market for rehabilitation treatment services is anticipated to develop. The market is anticipated to reach USD 138,050.86 million by 2028 and is expanding with a CAGR of 13.5% from 2021 to 2028. The market for rehabilitation treatment services is anticipated to be driven by an increase in the prevalence of chronic diseases.
Market Drivers
Increasing investments in research and development (R&D)
Modern technology has significantly increased the flow of communication between patients and healthcare practitioners, allowing for better, quicker, and more efficient care. The successful fusion of medical devices and information and communication technology (ICT) as well as the provision of healthcare over great distances, for instance, provides the foundation for remote patient monitoring, which fuels market expansion.
Demand for home healthcare is growing
This is because non-skilled labor, caretakers, services, doctors, and other home healthcare equipment are more convenient in homecare settings. There has also been an increase in healthcare costs on the hospital grounds in the area.
A growing aging population and technological developments
Over the preceding ten years, the home healthcare industry in Europe has experienced sharp growth. The industry has grown significantly as a result of rising healthcare expenses, which have caused healthcare to move from hospitals to homes. The government's initiatives to enhance home healthcare are hastening the sector's expansion.
Market Trends
Artificial intelligence
(AI) provides quick, remotely accessible, real-time solutions for identifying, treating, and preventing disease in place of conventional, labor-intensive, and time-consuming healthcare operations. Healthtech businesses provide software platforms, application programming interfaces (APIs), and other digital goods to fully realize the potential of AI. Clinical workflow management and improved surgical support are two examples of how artificial intelligence is being applied in the healthcare sector.
Advanced Technology
Immersive technologies like AR/VR and MR are increasingly being used in the healthcare sector. Applications for VR in healthcare include exposure therapy for anxiety disorders, rehabilitation therapy, and assistance with cognitive and physical rehabilitation. VR and AR are also essential for medical education. Immersive technologies are also employed in surgery, such as to safeguard patient information, holographic images, and scans while they are being performed.
Data Science & Analytics
The gathering and storage of medical data, diagnostic techniques, treatment planning, surgical procedures, remote patient monitoring, and consultation are all being transformed by digitalization. The amount of health and medical data is expected to increase dramatically in the next years. MedTech businesses evaluate the volume of unstructured medical data produced by MedTech using big data and analytics. It improves patient-centered services, detects diseases earlier, and generates new insights into how diseases operate. Technology also makes it feasible to improve treatment methods and evaluate the efficiency of interventions at medical facilities.
Robotics technology
Due to major developments in robotics technology over the past five years, the demand for minimally invasive robotic surgery (MIRS) has surged, propelling double-digit growth in the surgical robot industry.
It is anticipated that this trend line will continue to rise. By 2025, there will be 2 million MIRS procedures performed worldwide, and the market is projected to grow from $5.5 billion (£3.95 billion) to over $24 billion (£17.26 billion).
The COVID outbreak has expanded the employment of robots in hospitals. In an era of limited medical services and growing hospital demand, robots have emerged as a feasible, economical alternative to give safe and socially distant preoperative, intraoperative, and postoperative treatment.
Software Utilization in Medical Devices (SaMD)
People with chronic diseases can gather data with the use of this technology and, if they so want, share it with their healthcare specialists. SaMD creates new digital pathways for screening, diagnosis, monitoring, and alerting, enabling consumers to actively participate in their healthcare plans. SaMD gives medical professionals the knowledge and freedom they require to develop customized treatment plans as technology becomes more accessible, powerful, and affordable.
Cybersecurity For Medical Devices
One disadvantage of the advancement of smart medical device technologies is the possibility of increasingly sophisticated cyberattacks.
As more medical equipment is connected to clinical cloud apps, the possibility of hackers accessing patient data without consent and having potentially severe side effects on them increases as well. Therefore, maintaining patient safety and privacy is of utmost importance to Medtech companies.
Market Restraints
Supply Chain Issues
During the pandemic, demand has decreased for various products, including those used during elective surgical procedures. Orders for goods including masks, gloves, infrared thermometers, PPE kits, and testing kits increased during the pandemic.
Manufacturing of medical devices has also been affected by supply chain interruptions brought on by the coronavirus. Delays in deliveries and rising material costs have been causing issues for businesses. The market will continue to face challenges from disruptions and changes in supply pricing until the concerns with the global supply chain are resolved.
Inventory Uncertainty
Inventory unpredictability and supply chain problems often coexist. The supply chain has been affected by the epidemic during the past few years, as we have witnessed. Other elements, including labor unrest, armed conflict, natural catastrophes, transportation problems, and unexpectedly high raw material demand, can also have a negative impact on supply.
Ineffective business procedures
It's challenging to oversee every service, function, and resource a company has. Modern technology that enables cross-functional automation, seamless data exchange, and mobile access to files and documents are essential for businesses that manufacture medical devices. Better decision-making and time management are encouraged by the use of software that eliminates silos and supports operations like warehouse management, production, procurement, quality control, shipping, and other fundamental tasks.
Product quality is crucial to reducing product recalls and consumer discontent. The FDA-regulated medical device manufacturing sector gathers all data to satisfy expanding governmental obligations. To systematize every procedure and reduce product recalls, organizations can track devices by their batch number, lot number, or serial number using best-in-class software.
Key Players
The key players Drägerwerk AG & Co. KGaA, GE Healthcare, Koninklijke Philips N.V., Medtronic, Teleflex Incorporated, SCHILLER, ResMed, Nidek Medical Products, Inc., MGC DIAGNOSTICS CORPORATION, Hill-Rom Services, Inc., Getinge AB, Invacare Corporation, CAIRE Inc., Drive DeVilbiss International, GCE Group, Smiths Medical Inc